So you want to master muscle ups but you're still having problems? I know they are tough to get right, and most people push them away instead of starting to practice early. Don't make this mistake. Think about the long term goal and gradually build up that base of strength and gymnastic ability over time. You CAN do this!
Take 15 min, 3-4 times per week, to practice your skills, and trust me, your Muscle Up technique will get better over time.
'Don't get frustrated, we all started somewhere. But you need to START, otherwise the magic will never happen…'
Try this 3 week program to build up a foundation of strength and technique
WEEK 1: REPEAT 3-4 TIMES
P.s. If you aren't sure about any of the movements below, you can find them in the video above.
A: 3 rounds
50 sec on 10 sec off
Hollow rock (without bobbing up and down)
Superman rock (without bobbing up and down)
False grip dead hangs
B: 3 rounds
5-8 strict pull ups (toes in front of the body with great tension in your abs)
In between 90 sec plank
WEEK 2: REPEAT 3-4 TIMES
A: 3 rounds
50 Sec on 10 sec off
Handstand hold
Max rep hollow rocks
Max rep supermans
B: 3 rounds
5-8 strict chin ups (toes in front of the body for a great tension in your abs)
WEEK 3: REPEAT 3-4 TIMES
A: 3 rounds
10-15 muscle up swings (look in a great Superman and hollow position in the swing)
90 sec Hollow rock (without bobbing up and down)
90 sec Superman (without bobbing up and down)
B: 3 rounds
5 Ring chin ups pull below the chest
10 ring rows
So there is a basic plan to start building the foundations that will enable you to master muscle ups. Let's look at some more technical technique tips to help you improve.
MASTER MUSCLE UPS – THE BABY MUSCLE UP
Progressions are a perfect way to build up the desired strength, mobility and ability. Check out this helpful exercise from CrossFit Coach Tom Morrison.
The baby muscle up is putting the movement together with the feet still on the floor for a slight bit of assistance, opt for the tip toes rather than the ball of the foot or you may subconsciously push through your feet too much. Keep the rings as close as possible to you and break it down into 1. Pull to chest 2. Transition and 3. Press, feel the weight shift in your hand and make sure to maintain that false grip! The higher the rings. the more challenging this exercise is.
TIPS FOR BEGINNERS
RING MUSCLE UP DRILLS FROM AUSTIN MALLEOLO
The CrossFit Games athlete, HQ Seminar staff and head coach at Reebok CrossFit One Austin Malleolo shares three muscle-up drills that could help you strengthen the movements later required for a muscle-up. Ring rows, chest-to-bar ring pull ups and more in the video.
WHICH GRIP SHOULD I USE?
Grip is a hugely important part of the muscle up. Check out these variations and when might be the best time for you to use them.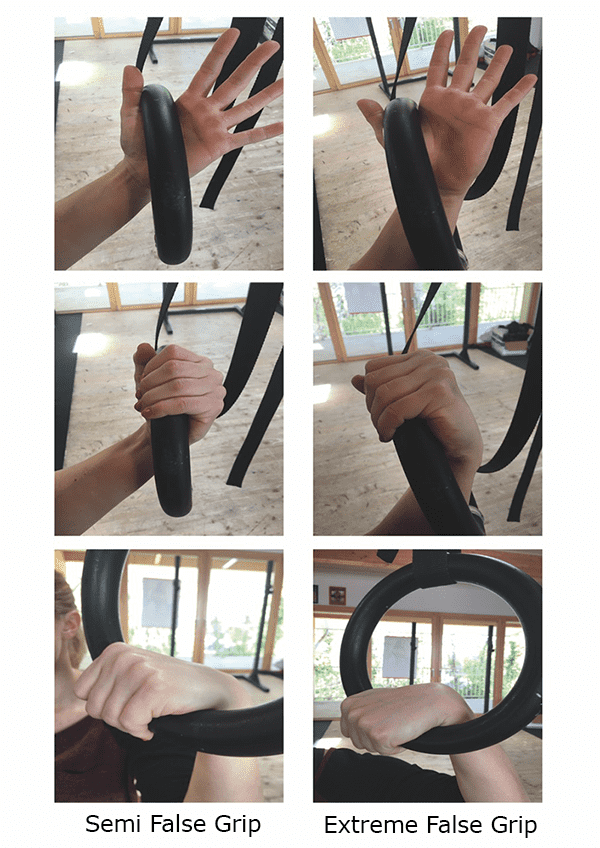 Have you ever ripped your hands whilst practicing muscle ups? Then this article could help you out:
The Crossfitter's Guide to Preventing Rips and Tears on your Hands

---
muscle up grips © Patrick Funk
The post 5 Videos to Help You RX Muscle Ups appeared first on BOXROX.