So its summer and you finally want to present the results of your training ? Time for the beach, but you are still too shy to doff your shirt? Don´t worry, we´ll get you pumped with these suntan oiled upper body bro session Crossfit workouts. 
Lynne
5 rounds, for max reps 
Body weight Bench Press
Pull-ups
Linda
10-9-8-7-6-5-4-3-2-1 reps of the triplet:
Deadlift: 1 1/2 body weight
Bench press: body weight
Clean: 3/4 body weight
Set up three bars and storm through for time.
JT
21-15-9 of:
Elizabeth
21-15-9
Clean (135/95)
Ring Dips
The 5×5
5 Rounds for Time
5 behind the neck neck press
5 Shoulder press
5 Deadlift
5 Barbell Row
5 Floor Press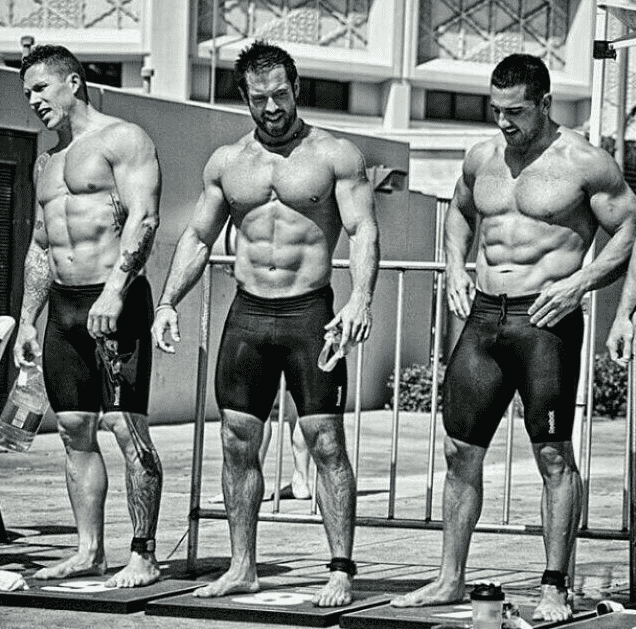 AMRAP WORKOUT
10min Amrap
5 Pull Up strict
5 Shoulder Press
5 Ring Dips
Pause 2 min then:
10min Amrap
10 Pull Up (Kipping/Butterfly/Assisted)
5 Push press
5 Ring Dips
Use same weight for each type of Press.
The Iron Triathlon
Linda 1-20
Deadlift: 1 1/2 body weight
Bench press: body weight
Clean: 3/4 body weight
If you enjoyed the WODs, try these workouts as well:
10 Crossfit AMRAP Workouts for Athletes of All Levels
10 Crossfit EMOM Workouts that all Crossfitters Should Try
Also for a more serious look at how you can incorporate specific strength building exercises into your training in order to improve performance and aesthetics, Marcus Filly's training concept of "Functional Bodybuilding" is definitely worth checking out. Find a selection of his exercises here:
Functional Bodybuilding Exercises for Performance AND Aesthetics from CrossFit Games Athlete Marcus Filly
---
Lucas Parker in action ©
Dan Bailey CrossFit Games ©
Froning and Khalipa © CrossFit Inc
The post 7 Upper Body Bro Session Crossfit Workouts appeared first on BOXROX.