Up for a challenge? Then try to tackle this 100 round long workout, designed for Regional and Open athletes by Ben Bergeron: the owner and head coach at CrossFit New England, the man behind East Coast Championships and a 2-time Reebok CrossFit Games competitor. 
Best time so far was set by Michelle Letendre: 1h 17min (Regional version).

WOD by Ben Bergeron
REGIONAL ATHLETES
100 Rounds For Time of:
1 Strict Deficit HSPU, 6/4″ (15/10 cm)
2 Squat Cleans, 155/105 (70/48 kg)
3 Burpees
OPEN ATHLETES
100 Rounds For Time of:
1 Strict HSPU
2 Squat Cleans, 135/95 (61/43 kg)
3 Burpees
We had a quick chat with Ben:
1. Ben did you try this workout? If yes, what was your time? And how did you like it?
Yes, I did it. I did the OPEN version in 1 hour, 31 minutes. It was brutal and a mental roller coaster with lots of highs and lows. Having said that, it was a great challenge and I was very happy to finish it with a respectable time.
2. 100 rounds = hard mental challenge. What would be your suggestion: how to tackle on a long MetCons like this one?
Setting short term goals. The first goal was to complete 25 rounds. After that, I set my sights on completing 50 rounds in 45 minutes. After that it was 2 rounds at a time. The goal should not be speed, or 100 rounds merely to keep moving at a steady pace.
3. Do you might know what's the best time so far?
Michele Letendre did the Regional version in 1 hour, 17 minutes.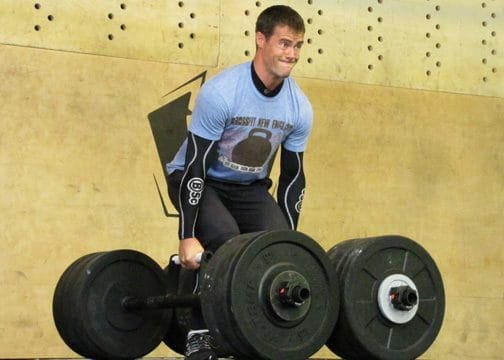 4. What's your training/programming philosophy?
Your goal is to become a three headed monster. Top athletes in this sport have strength, skills and conditioning. Your goal is to be feeding (improving) all three heads at the same time – every month, every week, every day.  If you have a serious weakness in one (one head is smaller than the other two), feed it more until it's as big as the others.
---
Ben ©
The post Ben Bergeron WOD -100 Rounds of HSPU, Cleans & Burpees appeared first on BOXROX.