Owner of the Box:
Mario Kirner CrossFit Level 1 Trainer
Team:
Lucia Kirner CrossFit Level 1 Trainer
Matthias Kripp CrossFit Level 1 Trainer
Artur Tuaev Weightlifting Trainer
What makes you get up each morning and run the Box?
Living right on top of the building where my box is housed in does not it make too hard to get up each morning. Being the first to turn the key in the morning is always very special for me. The calm before the storm so to say. Switching lights on, banging out the equipment, prepping the WOD.
What's a typical day for you?
The typical day starts between 6 and 8 o`clock with my one year old kid and wife having breakfast and ends with a good movie in the night. Everything in between depends on what`s waiting up for me. Usually lots of cool action stuff of course.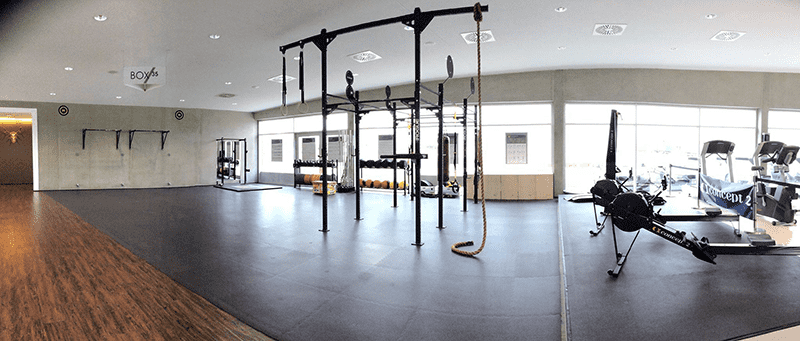 What has been the hardest challenge to overcome whilst setting up and opening your Box?
Actually we went the long way and started out as a regular gym with just a "light version" of an functional training area attached. That was pretty exactly 3 years ago. Ever since that area turned out to find more and more fans and so it grew quickly to a Box with CrossFit typical equipment and according classes. Probably the biggest challange when having a Box within a Gym was to find the needed space without cutting too much floor off the rest of the offer. Finally we ended up with nearly 200 square meters of space for our Box. That works great for classes up to 8-12 persons depending on the WOD.
What piece of advice would you offer anyone else looking to open a Box of their own?
Always buy the best quality equipment that`s within your given budget. Otherwise you may learn it the harder way. The marked often provides cheap home-gym stuff that simply wont work in professional gyms. Start with good barbells and don`t hesitate to get your rig from one of the bigger companies too.
Do you hold competitions, how do you keep them unique and exciting?
I guess like many boxes we did a tiny version of the 2017 open workouts. We will defenitely do some bigger stuff this summer at our outdoor area too. Other boxes are hartly invited to join us.
How do you cater to the individual needs and goals of your members?
We include professional fitness check-ups (Polar Body Age System) in our full memberships. That way we find out where to "pick up" the individual member at, prior to offering induvidually worked out training plans and WODs. We also provide regular re-checks too for an even more detailed fitness progress to be worked out. Also, we work close with our own in-house physiotherapie practice. These guys are indispendable when it comes down to propper injury analysis and treatment.
Describe your members in 4 words:
1. Getting
2. better
3. and
4. better…
How did you get into functional fitness in the first place?
When I started to work as a full time trainer back in 2011 one of my co-trainers, Dennis Zimmermann attached me to this kind of training method. He was an professional Foodball player (2010 Europameister, Quaterback des Jahres) and these guys train in this field on a daily basis. The time of funny CrossFit videos seems to be over now and people start to get open minded more and more. Nowadays even the hardcore body building magazines load their pages with functional training stuff and that makes it easier for us to get our members interested for this awesome way to work out.

Favourite Workout?
No specific benchmark WOD. But I got a cool "home made" WOD that I do sometime just to check my progress. It`s pretty balanced and contains a good portion of everything.
What are your plans for the next year and beyond?
Offering more classes weekly may be the next step to come with our growing number of memberships.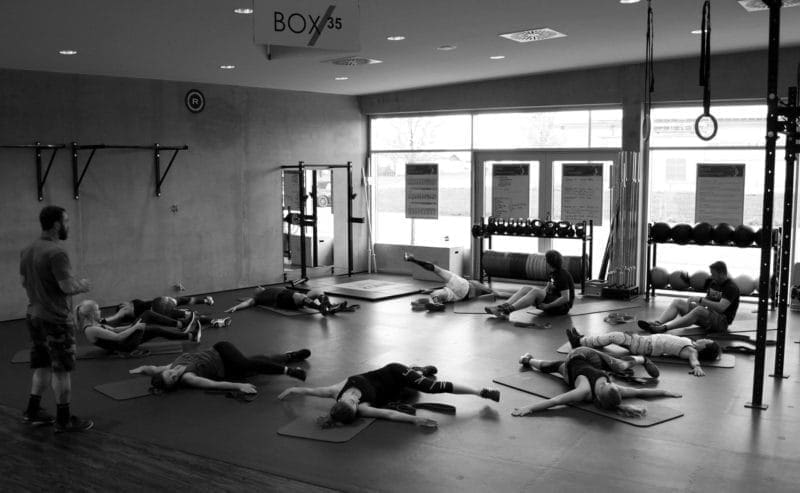 Training Tips
Can you give us 3 tips on how to avoid injuries in training?
– The benefit of having good coaches around is to let them show you how to properly use equipment, technique and how certain exercises work correctly. Just let `em know or visit technical classes!
– Always take time to warm up your body properly prior to work outs. Take time to cool down as well. Never skip these parts of your training.
– Don't be afraid to scale when it comes down to weights and especially in regards to tougher gymnastic exercises. Take time to learn the progressions.

What piece of advice would you offer to beginners?
So many times we hear from people things like "first I need to become fit until I can try functional training". Simply get started, we will scale the workout down for your needs until you get better and fit the requested WODs entirely. Do it like Milon of Croton the greek wrestler (555 B.C.) who started out as a young boy carrying a calf around his home village for a certain period every day. While the calf grew up to an massive bull, Milon went stronger and fitter at the same time by growing with that task.
How do you program for the longer term goals of your members?
One important point in programming the classic CrossFit workout is to have the routine crossed out. We go even a step further and cross out the entire fact to train one method only. Since we offer regular fitness too in our facility, we program that way and mix up certain body building methods with functional training. Get your benefits from both worlds, they wont rule each other out.
The post Box 35 – Elite Fitness in The South of Germany appeared first on BOXROX.