THE MADISON TRIPLET
5 rounds of time of:
Run 450 meters
7 hay bale clean burpees
M 100-lb. sandbag   F 70-lb. sandbag
Athletes will begin each round with a 450-meter run outside of the stadium. Each rep of the hay bale clean burpee will require them to lift the sandbag from the ground, throw it over the hay bale wall, touch their chest to the ground, and then jump themselves over the wall.
The athlete's score is the total time it takes for them to complete the event.
Time cap: 20 minutes
Sam Briggs created a decent lead and held it for the full event. No other Athletes were able to catch her and she took another Event win at The 2017 CrossFit Games. Holte chased exceptionally well, and has been impressive throughout the events this year. Thuri Helgadottir won the first heat and secured a fourth place finish. Tia-Clair added to her lead by battling through the workout and finishing in third.
THE RESULTS FROM THE EVENT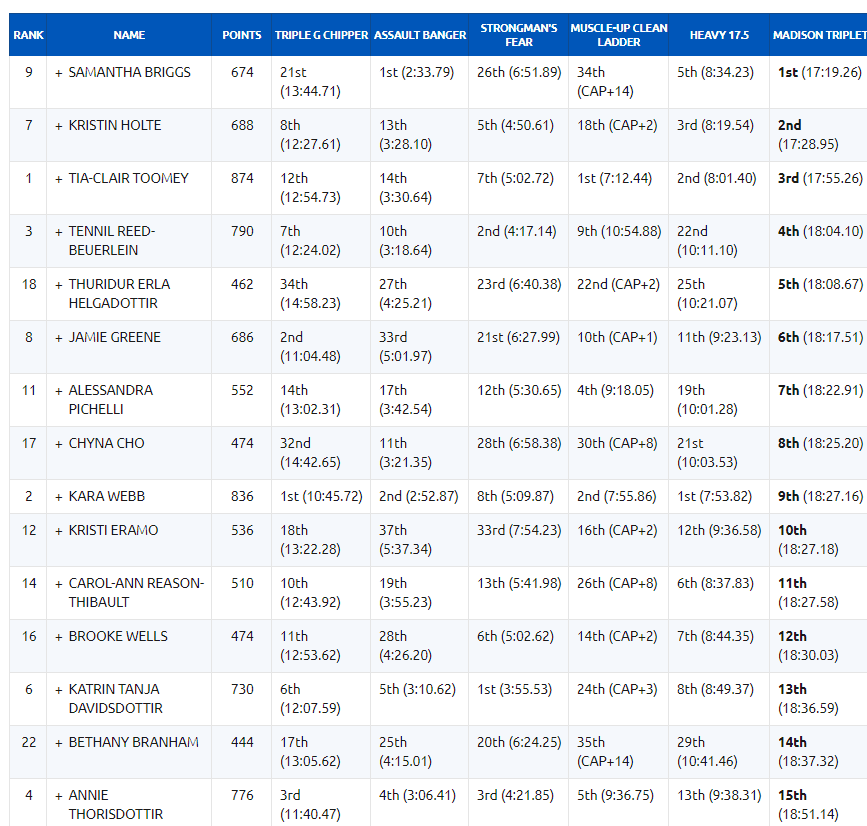 More CrossFit Games news:
Games Athlete Jason Carroll Proposes to His Girlfriend In-between Events at The CrossFit Games
17 Year Old Snatches 131 kg (291 lb) at The CrossFit Games and Beats Mat Fraser's Lift!
---
Madison Triplet © CrossFit Inc
The post BREAKING CROSSFIT NEWS – Sam Briggs Wins First Event on Final Day of The CrossFit Games! appeared first on BOXROX.