EVENT DETAILS
For time:
60-ft. yoke carry + 60-ft. handstand walk
60-ft. farmers log carry + handstand walk
60-ft. sled drag
60-ft. yoke carry + 60-ft. handstand walk
60-ft. farmers log carry + handstand walk
60-ft. sled drag
*Athletes may carry the objects in any order they choose.
  M 500-lb. yoke, 200-lb. logs, 400-lb. sled
  F 340-lb. yoke, 120-lb. logs, 310-lb. sled
Each lane will contain a yoke, 2 logs and a sled. Athletes must move all 3 items across the stadium floor, in any order. All 3 objects must be brought to the middle of the field, then moved to the end of the field. Each time the athlete moves back to retrieve a new object, they must handstand walk the 60-ft. section.
The athlete's score is the total time it takes for them to complete the event.
Time cap: 10 minutes
ALEX PARKER DEMO VIDEO
Watch the intense sprint finish in The Strongman's Fear Event!
After finishing in first place by only 9 tenths of a second, Fikowski responds to being asked about how he sees Mat Fraser:
Both Mat Fraser and Brent Fikowski looked solid throughout the entire event. Scott Panchik but in an impressive performance, as well as Noah Ohlsen who stormed through the handstand walks with ease.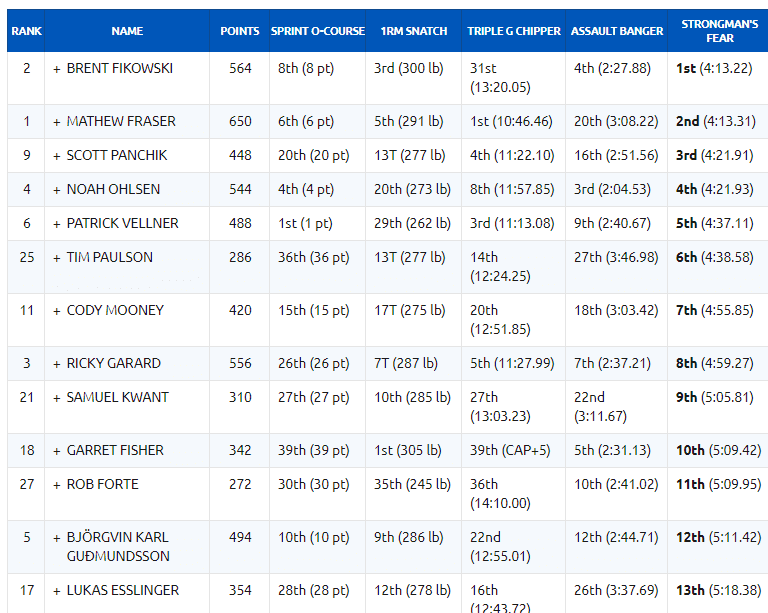 More News from The CrossFit Games:
Sam Briggs Wins Surprise 'Assault Banger' Event at CrossFit Games!
The post BREAKING NEWS – Amazing Sprint Finish Between Fikowski and Fraser in The Strongman's Fear Event! appeared first on BOXROX.