STRONGMAN'S FEAR
For time:
60-ft. yoke carry + 60-ft. handstand walk
60-ft. farmers log carry + handstand walk
60-ft. sled drag
60-ft. yoke carry + 60-ft. handstand walk
60-ft. farmers log carry + handstand walk
60-ft. sled drag
*Athletes may carry the objects in any order they choose.
  M 500-lb. yoke, 200-lb. logs, 400-lb. sled
  F 340-lb. yoke, 120-lb. logs, 310-lb. sled
Each lane will contain a yoke, 2 logs and a sled. Athletes must move all 3 items across the stadium floor, in any order. All 3 objects must be brought to the middle of the field, then moved to the end of the field. Each time the athlete moves back to retrieve a new object, they must handstand walk the 60-ft. section.
The athlete's score is the total time it takes for them to complete the event.
Time cap: 10 minutes
WATCH ALEX PARKER DEMO THE EVENT
THE RESULTS
Katrin finished in first, displaying her grit and strength with the farmer's walk and and excellent technique during the handstand walks.
Tennil Reed-Beuerlein also looked strong and unstoppable during the event. Annie Thorisdottir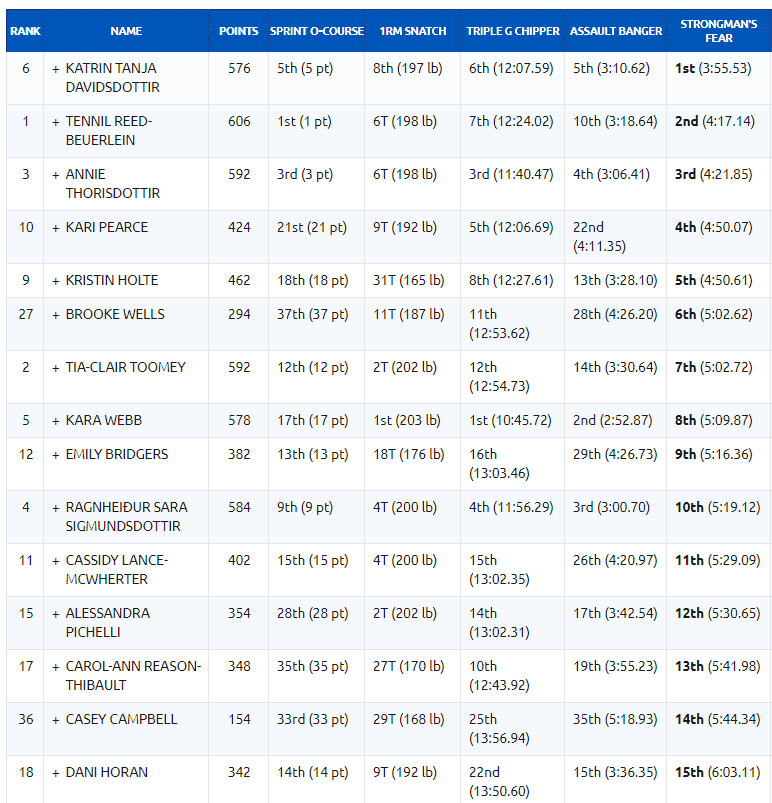 Chyna Cho explained tactics for the event:
"Smooth is fast," she says. "If you start going too frantically at these weights, you can really get out of control." She also thinks an athlete's competence in the handstand walk should determine the order in which she move these implements. "Some of the objects definitely effect the handstand more than others." That's probably why so many women are choosing to tackle the farmer's carry first. It's hard to exaggerate how heavy these loads are. 
More CrossFit Games News:
Amazing Sprint Finish Between Fikowski and Fraser in The Strongman's Fear Event!
The post CROSSFIT NEWS – Katrin Davidsdottir Wins Strongman's Fear Event at CrossFit Games appeared first on BOXROX.