Tia-Clair Toomey demolishes the competition in The Muscle Up Clean Ladder. She set an early lead and power cleaned all lifts until the final 2 cleans. Many of the athletes failed to finish the event and even lift the last 2 cleans, so this shows her world class ability. When interviewed after the Event, she responded:
"I feel great, I'm having an absolute ball!"
Annie Thorisdottir, Kara Webb, Sara Sigmundsdottir Alessandra Pichelli, Regan Huckerby and Dani Horan all handled the workout very effectively and demonstrated their strength. 
HERE ARE THE DETAILS OF THE EVENT
8 rounds for time of:
4 bar muscle-ups
2 cleans, ascending weight
M 225-245-265-285-305-320-335-350 lb.
F 145-160-175-190-205-215-225-235 lb.
Every round begins with 4 bar muscle-ups before moving to the barbell for 2 cleans. Each round the athlete will progress to a heavier barbell.
The athlete's score is the total time it takes for them to complete the event. If an athlete is unable to complete all the reps, they will be ranked by total reps completed, with ties being broken by the time of completion of the last successful rep.
Time cap: 11 minutes
THE RESULTS FROM THE MUSCLE UP CLEAN LADDER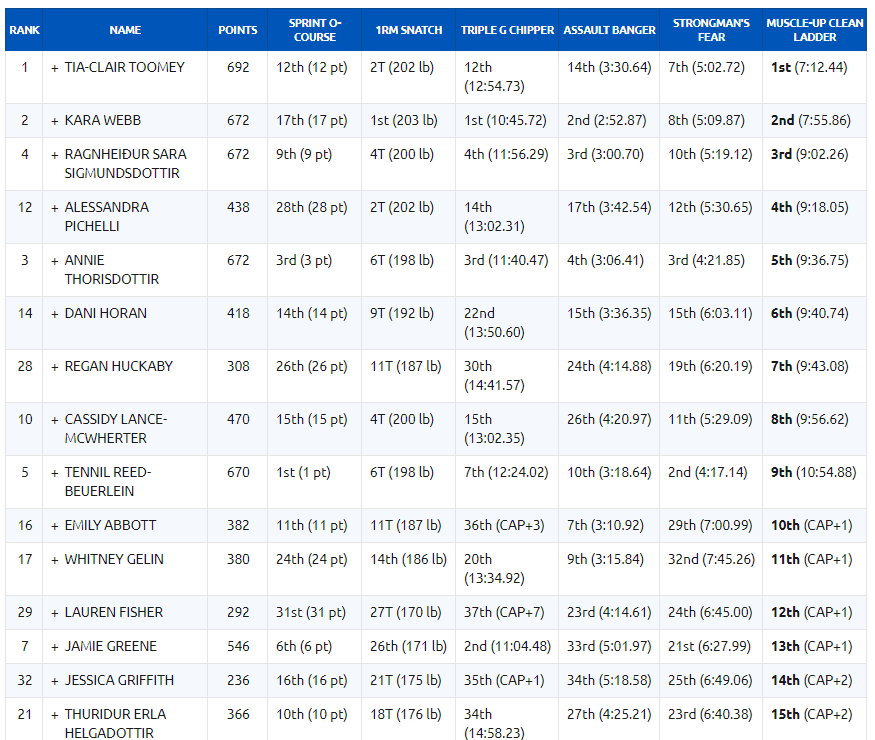 The post Female Athlete Wins Muscle Up Clean Ladder to Retake the Top Spot at CrossFit Games! appeared first on BOXROX.