MUSCLE UP CLEAN LADDER
8 rounds for time of:
4 bar muscle-ups
2 cleans, ascending weight
M 225-245-265-285-305-320-335-350 lb.
F 145-160-175-190-205-215-225-235 lb.
Every round begins with 4 bar muscle-ups before moving to the barbell for 2 cleans. Each round the athlete will progress to a heavier barbell.
The athlete's score is the total time it takes for them to complete the event. If an athlete is unable to complete all the reps, they will be ranked by total reps completed, with ties being broken by the time of completion of the last successful rep.
Time cap: 11 minutes
Click right to watch the video of his awesome lifts.
Cody Andersen put in an impressive performance as well. Travis Mayer in heat 3 lead a brave assault and attacked the workout with speed and aggression. Alex Andersen managed to catch him at the end. In heat 2 Tommy Vinas and Samuel Kwant both lifted with focused control and tenacity. 
FINAL RESULTS OF THE WORKOUT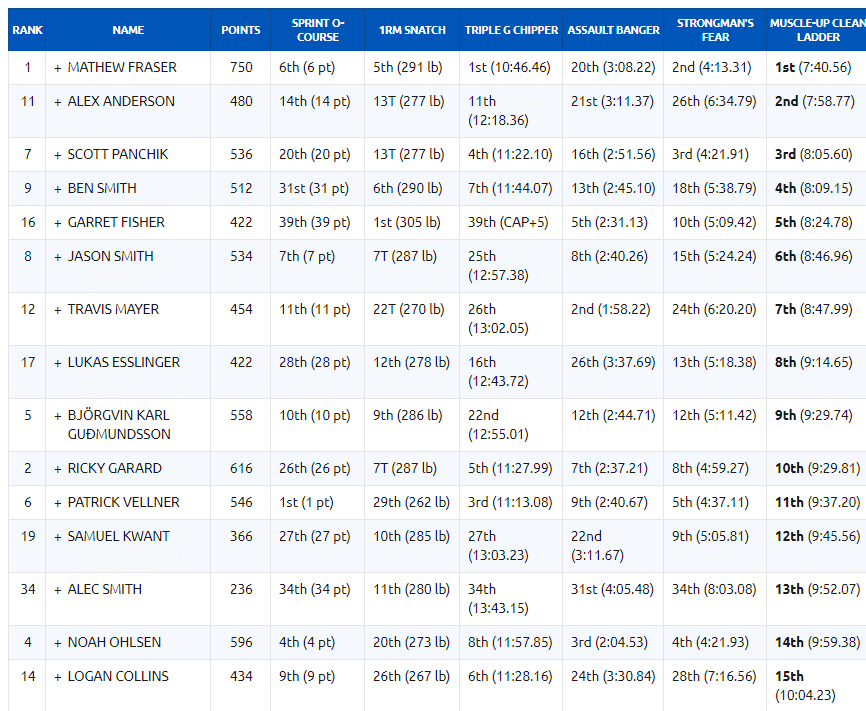 More news from The CrossFit Games:
Katrin Davidsdottir Wins Strongman's Fear Event at CrossFit Games
The post Mat Fraser Wins The Muscle Up Clean Ladder Event at The CrossFit Games! appeared first on BOXROX.