The Good Dudes are Rich Froning, Josh Bridges and Dan Bailey. 3 Crossfitters that have been in the game a long time and hold many CrossFit Games medals, Regionals victories and Event wins between them. They often train together, having a good time, pushing each other to the limit and showing just why community lies at the heart of the CrossFit community. Be a good dude and get involved with these WODs.
1. WORKOUT FROM DAN BAILEY
Check out Dan commenting on his own performance during the WOD (where he should have sped up, slowed down or changed tactics) and use his tips to improve your own attempt.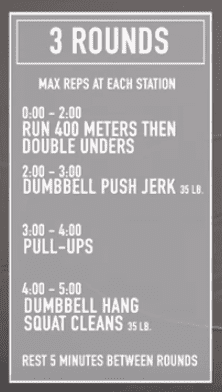 2. DOUBLE AMRAP FROM RICH FRONING
Following the pattern of 2-4-6-8, etc. reps, complete as many reps as possible in 7 minutes of:
225-lb. deadlifts
Strict handstand push-ups
3. BRO SESSION WITH JOSH BRIDGES AND DAN BAILEY
15-12-9-6-3 Burpees over the bar
5-4-3-2-1 Snatches
4. DAN BAILEY'S MAINSITE WORKOUT
For time
100 double-unders
then
five rounds of
10 dumbbell deadlifts
10 dumbbell front squats
10 handstand push ups
then 
100 double unders
5. JOSH BRIDGES "LINDA LOST HER BARBELLS"
"Turned one of my favorite Crossfit workouts Linda into Linda lost her barbells."
10-9-8-7-6-5-4-3-2-1 reps
deadlift 125#
db's bench 100#
db's clean with 150# ball
6. GOOD DUDES WORKOUT
Josh after a WOD
7. THREE GIRLS ONE CLOCK – DAN TAKES ON 3 GIRLS WODS IN A ROW
Elizabeth
21-15-9 reps of:
135-lb. cleans
Ring dips
Rest 5 minutes
Isabel
135-lb. snatch, 30 reps
Rest 5 minutes
Fran
21-15-9 reps of:
95-lb. thrusters
Pull-ups
8. BENCHING ON A BOAT
Try this workout from Dan Bailey. A Box works just as well as a boat.
42 medicine ball cleans 20lb
21 body-weight bench presses
30 medicine ball cleans 20lb
15 body-weight bench presses
18 medicine ball cleans 20lb
9 body-weight bench presses
9. ANOTHER FROM RICH
10. HEAVY FRAN WITH RICH FRONING (RORY McKERNAN EVEN JUMPS IN)
ROWLING
Rules
You need to hit 100m bang on.
If you do everyone gets 5 Burpees
If you don't you get 1 press up for every metre over or under.
Check out more from a good dude:
The Mentality of Success – 10 Training Tips from Josh Bridges
---
Good dudes Dan Bailey Workout © CrossFit Inc
The post Rich Froning, Josh Bridges and Dan Bailey – 10 Crossfit Workouts from The Good Dudes appeared first on BOXROX.