"Dear L****, 
Thank you for sharing my photo stating that I'm a bad representation of such an amazing sport I'm not healthy #toomuchsteroids
You took it upon yourself to come right out and accuse me of cheating … I couldn't possibly look the way I do because I've done CrossFit since 2009 … I spend between 5-8 hours most days in the gym training 7 days a week … I work f*cking hard to achieve everything I have … just because you haven't made it to the games all games athletes are cheating!!!
You've stated on Facebook that you've competed at Regionals … so I'm assuming you've been up close to some of my fellow games competitors … having just completed a wod they tend to look pretty pumped … but I would hasten to guess still looked pretty normal to you?!?!If a photo was to be taken of them in this pumped state I would say they'd look pretty huge!!! Right???
In body building steroid use is pretty common … see the picture of Yaxeni Oriquen (below) she's the exact same height as me but weighs 35# more than me!!!! I'm really not that big!!! At 5'7 I weigh 135# … I'm athletic and lean hence my muscles show especially after working out when they are pumped full of blood … this is very different to me being so huge it's unhealthy???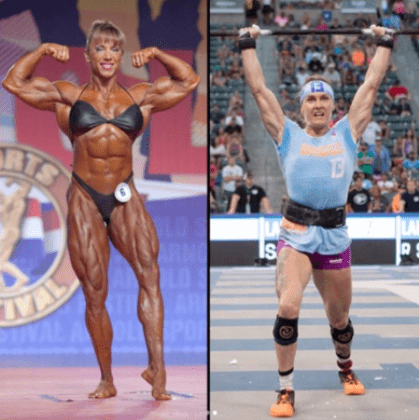 I take offense to your comments and offense to your accusations … I hope by me posting this you think twice before personally attacking someone on social media!!!"
Sam removed the post after things got intense, and wrote the following in her next instagtram post:
"I took my last post down as people took it upon themselves to give death threats to the individual who had written the hateful comments … this was never my intention of the post … she was initially in the wrong with her post but for people to then start threatening her they are making things worse … let's hope she'll think twice before posting hateful comments in the future but for now let us turn that hate into love instead" ❤️
Sam Briggs Smashes 30 Unbroken Bar Muscle Ups!
The post Sam Briggs Destroys Commentator that Accuses Her of Taking Steroids appeared first on BOXROX.