Assault Bike CrossFit Workouts should be part of your training for a multitude of reasons.
"The Assault Air Bike is also great for metabolic conditioning, as it can help break through plateaus in your training. If your aerobic capacity is not feeling as if it has improved, the Assault Air Bike is a great way to incorporate interval training to build your aerobic capacity without losing strength and muscle mass. The Assault Air Bike can also enhance your mindset. If you have ever used the Assault Air Bike at high intensity, I am sure you would agree that it is not easy. The Assault Air Bike is a great test of mental toughness and how to sustain a positive mindset through pain." CrossFit Invictus
Not just that it burn a lot of calories, but it can also be used as a useful recovery tool and is helpful when injured. It allows the injured area area to move and provides blood flow.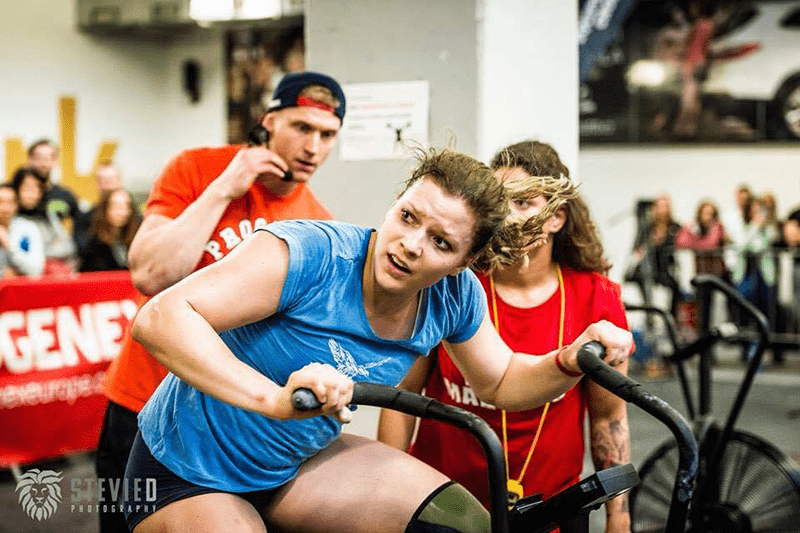 The bike is also really beneficial for working on your endurance and conditioning. Using the assault bike at high intensity can also boost your mindset as it teaches you how to push yourself through tough workouts when the pain gets real. To make it a little bit harder and even more fun on the bike you can always play with various rest intervals and different calories amounts.
Try adding these Assault Bike CrossFit Workouts into your training:
Workout 1
5 Rounds:
15 cals on the bike
1 unbroken round of DT
Athletes that use the assault bike can expect big increases in their cardiovascular fitness (lower WOD times) and leg power.