The 2011 CrossFit Games saw the introduction of swimming. The first workout included an open water swim and was named the "beach workout." This very short ocean swim created havoc among competitors, leading to the demise of a few big names.
In 2012 we saw a cruel triathlon with a win by Númi S. Katrínarson and Chad Mackay in the Men Division and Julie Foucher on the womans side.
PENDLETON 1 AND PENDLETON 2 (2 X 100 POINTS)
For time:
Swim 700± meters
Bike 8± kilometers
Run 11± kilometers
In this event, athletes will begin by swimming approximately 700 meters with fins. They will then grab their bicycles and ride approximately 8 kilometers across undulating terrain, with approximately 400 meters through unrideable soft sand. They finish with an 11 kilometer dirt-road run across steep hills with over 1,400 feet of elevation gain.Pendleton 1 will end at the checkpoint approximately 150 meters into the run. Athletes will receive points based on their arrival order at the checkpoint. There is no scheduled rest at the checkpoint as the race continues.Pendleton 2 will be ranked by total time to finish the entire swim, bike and run race. Arrival order at the checkpoint (Pendleton 1) will have no bearing on the scoring for Pendleton 2.
 
2013 Swim Event was "The Pool". A 10 Round Workout of 25yards Swim, 3 Bar Muscle Up, 25 yard Swim.
Advantage: It was not in the Ocean
Disadvantage: There have been Muscle Ups in between.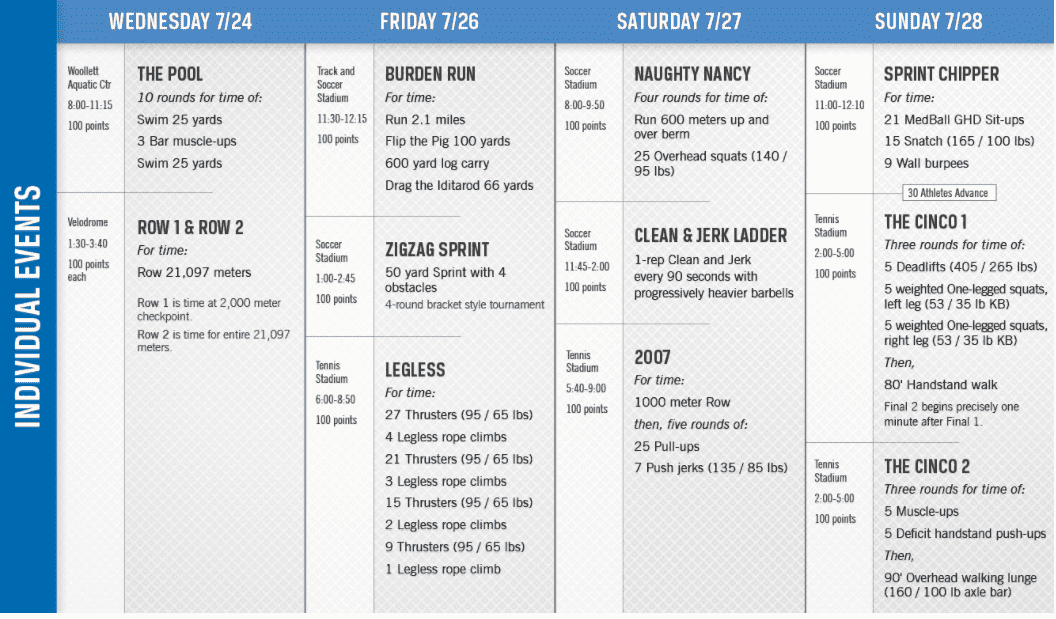 2014 Swim Event led us back to the Beach
Points Available: 100 points
Location: Hermosa Beach Pier
Wednesday morning
For time:
Swim 250 yards
50 kettlebell thrusters  (35 / 24 lb.)
30 burpees
Swim 500 yards
30 burpees
50 kettlebell thrusters  (35 / 24 lb.)
Swim 250 yards
Anna Tunnicliffe and Jordan Troyan won this Event in their Divisions.
2015 Swim Event was the Pier Paddle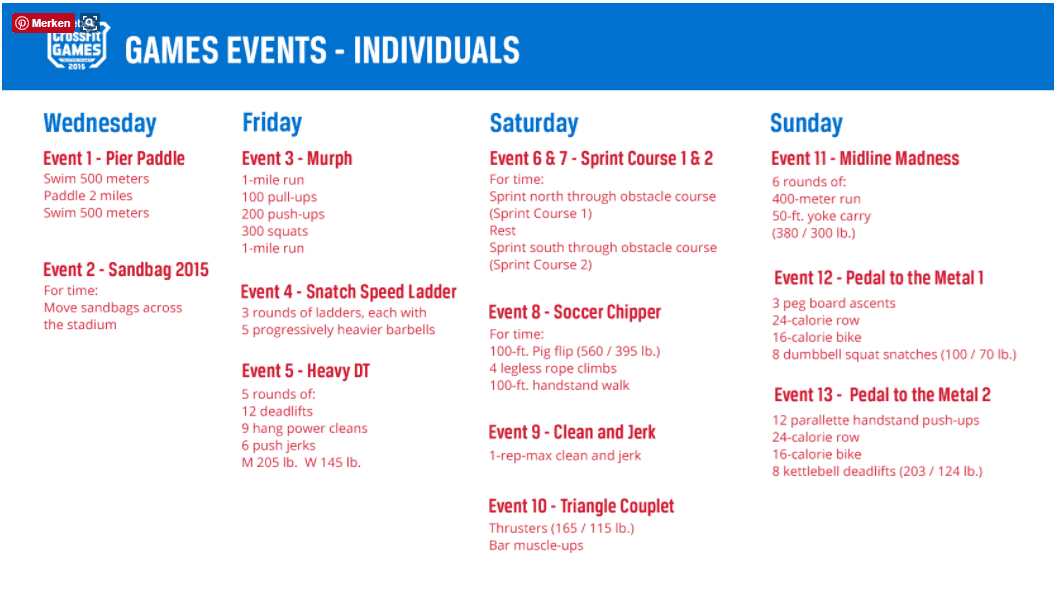 Jonne Koski and Kara Webb took the Win here.
2016 Events includinf "Ocean Swim"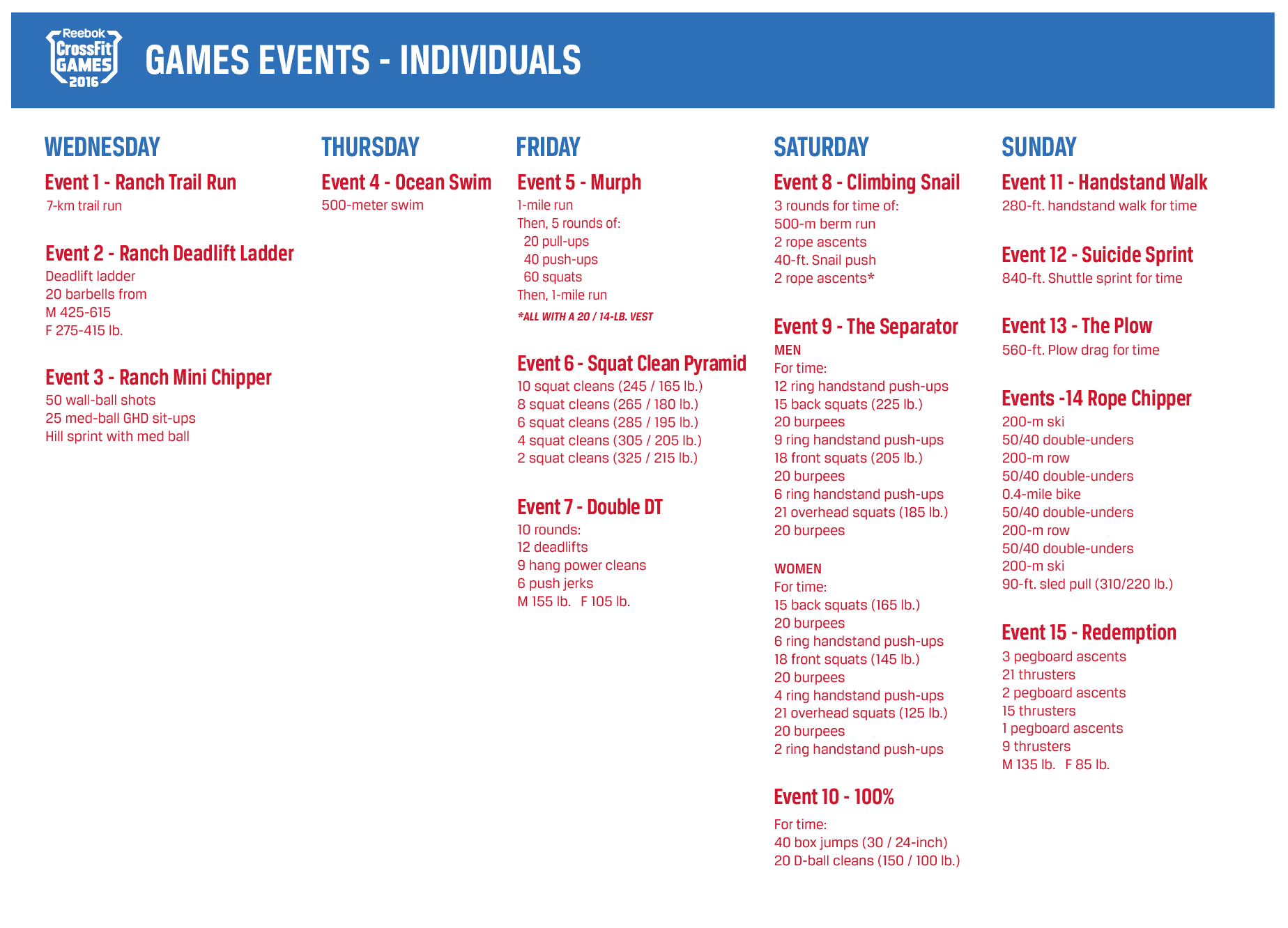 Tia-Clair Toomey and again Jonne Koski went out the water in 1st Place.
For 2017 Dave Castro just announced the first Event. Including: swimming
The post Swim Events in The CrossFit Games appeared first on BOXROX.