The second workout for the International Online Qualifier (IOQ) was announced last night in Argentina, home of the newly sanctioned event SouthFit CrossFit Challenge.
The IOQ officially kicked off yesterday, Wednesday 21, with all divisions, scaling options and standards released. Athletes will also be able to submit their scores now and have until Monday 26 to do so.
International Online Qualifier: WOD 1 Released
Check out the second qualifying workout:
16 Minutes AMRAP
40 Alternating Dumbbell Snatch (50/35lb)
40 Pull-Ups
30 Dumbbell Burpees
30 Chest To Bar Pull-Up
20 Devil Press
20 Bar Muscle Up
Jacob Heppner put together a 'tips, strategy and pacing' video for the first workout. Chech it out:
HOW TO QUALIFY TO OTHER SANCTIONALS
And more useful information.
So far, thirteen Sanctionals have announced their qualification process, number of athletes and final dates.
Now on their second year, Sanctionals have grown from 15 events to 28, and will be taking place all over the world.
From Egypt to Mexico: 2020 CrossFit Sanctionals® Season Released
As Regionals used to do, some sanctioned events have opted to use the Open as means to qualify to their finals.
Sanctionals using the Open as a qualifier:
Dubai CrossFit Championship (Dubai 11-14 Dec. 2019)

The Dubai CrossFit® Championship Finals will host thirty male, thirty female athletes and 10 teams that successfully complete the online qualifier.
In depth information on the qualification process here.

CrossFit Strength in Depth (London 24-26 Jan. 2020)

40 males and 40 females, as well as 20 teams will be competing in the Elite division at SiD
Of the 40 individual elite places available, 35 athletes will progress from the CFSiD leaderboard, with 5 wildcard invites in 2020⠀⠀⠀⠀⠀⠀⠀⠀⠀
35 athletes = Top 10 UK athletes + Top 25 CFSiD leaderboard ⠀⠀⠀⠀⠀⠀⠀⠀⠀
20 team spaces are up for grabs, 16 from CFSiD leaderboard plus the 4 winners from our UK event alliance.⠀⠀⠀⠀⠀⠀⠀⠀⠀⠀⠀⠀⠀⠀⠀
Registration will open Thursday 12th September 2019.⠀⠀⠀⠀⠀⠀⠀⠀⠀⠀⠀⠀⠀⠀⠀
To be in contention to qualify for CrossFit®SiD 2020, all Elite athletes must register through the Strength in Depth website prior the the close of Open workout 20.1, Monday 14th October 2019.⠀⠀⠀⠀⠀⠀⠀⠀⠀
Athletes will be ranked based on their open score against all athletes who have registered for CrossFit SiD, not their overall Open score.

Norwegian CrossFit Championship (Norway 14-16 Feb. 2020)

Do the CrossFit Open workout in the same time window as Open.
Submit your Score on NCC OQ Leaderboard
Wait for the next workout to be released by CrossFit.
Repeat this process during the whole Open period.

Australian CrossFit Championship (Australia 5-8 Mar. 2020)

More information coming soon.

Brazil CrossFit Championship (Brazil 6-8 Mar. 2020)

The Sanctional is using the Open workouts as a qualifier, but athletes don't necessarily have to be registered for the Open itself, just the BCC Online Qualifier if they want to attend this Sanctional.

Reykjavík CrossFit Championship (Iceland 13-15 Mar. 2020)
Down Under CrossFit Championship (22-24 May 2020)

80 male, 80 females and 40 will be accepted to compete at the 2020 event
Fill out an expression of interest here.
The Open begins in 50 days. https://t.co/NBYmCnfIab

— The CrossFit Games (@CrossFitGames) August 21, 2019
Sanctionals using the International Online Qualifier
CrossFit Filthy 150 (Ireland 22-24 Nov. 2019)
SouthFit CrossFit Challenge (Argentina 6-8 Dec. 2019)
Wodapalooza CrossFit Festival (Miami 20-23 Feb. 2020)
CrossFit Atlas Games (Canada 13-15 Mar. 2020)
Read more about the International Online Qualifier, qualifying spots and divisions here.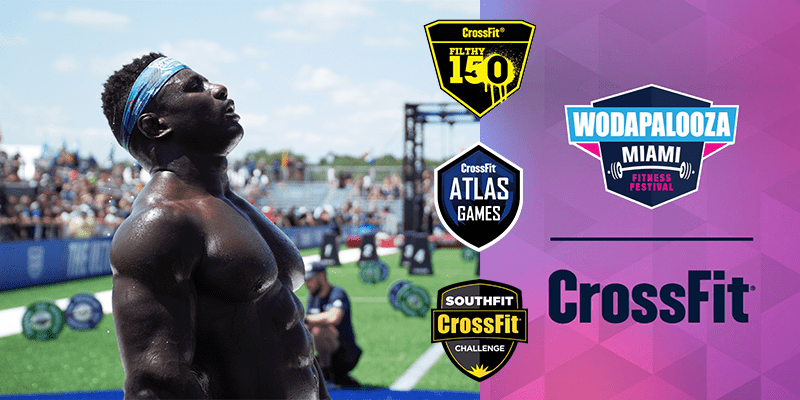 Other qualification processes:
CrossFit Fittest in Cape Town

Spots will be filled in the order of the following:
Defending Champions from CrossFit® FiCT19
The Top 10 Individual Female & Male and Top 5 Teams from the CrossFit® Games 2019
The Top 10 Individual Female & Male athletes from the CrossFit® Open 2020
Remaining spots will be filled through the FiCT 2020 Online Qualifier
Like last year we will hold a 10 day Online Qualifier where 3 separate Q-WODs will be release on the 22nd, 23rd & 24th of November 2019. All 3 WOD's must be completed with video submission before the deadline on the 2nd of December 2019.
More info here.

The CrossFit Italian Showdown has its own on-site pre-selection competition.