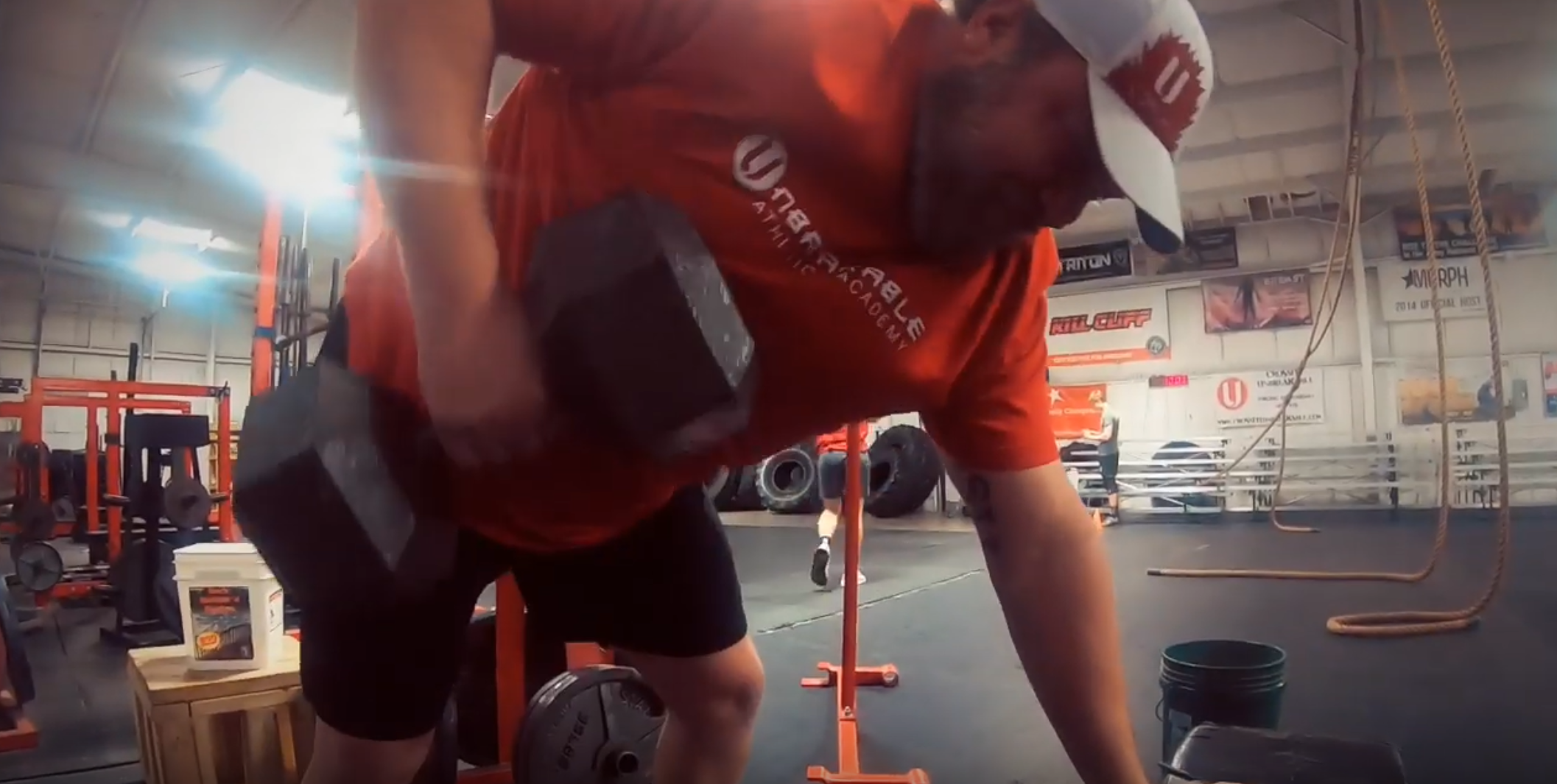 The phrase "WHAT IS YOUR WHY?" is painted in large block letters near the ceiling of Unbreakable Athletics Academy, a testament to the mission of the facility. When Jim Beebe opened UAA on March 7, 2013 he had a single goal in mind – he wanted athletes to train with a purpose. Jim knew that finding the "why" is the biggest predictor of any athlete's long-term fitness success – including his own.
Throughout college, Jim had maintained his own athleticism by playing for Purdue University's racquetball club team but had badly injured his back at the age of 20, which had effectively ended his sports career. Along with the reduction in his activity level, he also stopped caring about his diet. By the time he graduated college, his weight had jumped from 190lbs to 270lbs.
Prior to opening UAA, Jim spent over 15 successful years in the financial world, working in high level personal banking, white collar crime and hedge fund trading. "I had spent all these years professionally making people financially successful, but it wasn't very rewarding. No matter what I did, they always wanted more.
"At this point, I was doing great professionally, but I was doing terribly personally."
Jim discovered that he was so out of shape, normal activities left him winded, such as walking up a flight of stairs to play with his kids. "I remember I went for a jog and couldn't break a 13 minute mile at the time – I also knew that 13 minutes was higher than the allowed walking pace for a mini-marathon, and that meant I had a lot of work to do."
It was then he finally started taking care of his body. Initially, he thought that simply meant "be thinner." He focused on running, lots of cardio, and did multiple group training classes.
Six half marathons later, he had lost 60lbs, but was still very weak. He found a facility in Indianapolis that offered CrossFit and decided to try it out. "I loved the approach of CrossFit and what I saw it do for people, including myself. As I changed my life physically, I decided that if I could also help other people change their lives physically, I wanted to do that as well."
Jim fished an old book out of his library from his time in school earning his MBA and followed it chapter by chapter, writing a business plan for a new CrossFit affiliate gym. There were no CrossFits in the Plainfield area (UAA is still the only facility offering CrossFit in Plainfield to this day), and the town had been growing steadily each year.
"My personality has always been towards high risk, high return careers, and I was ready to make a difference. When I opened the gym, I did not want it to be 'high rep Zumba with a barbell,'" Jim said. "It was important to me that we incorporate strength movements like a bench press and teach people to be strong, while also getting them in great shape."
While the CrossFit and sports performance components of UAA took off immediately, it wasn't until four years ago when Jim took a conjugate course from trainer Shane Sweatt, that powerlifting and strongman were added to UAA's offerings. "We are one of the few gyms that has an ample amount of space, so we can offer lots of different things here and have room for everyone."
"I love seeing our athletes here really change their lives," Jim said, "but their 'mental PRs' are by far my favorite. I get to see someone overcome a fear, and now they have the confidence to overcome any adversity either in or out of the gym that may come their way."
Another unintended benefit to opening UAA was that it facilitated the meeting of Jim's wife Jen, who was taking CrossFit classes at the gym. While Jen was out for knee surgery, Jim offered to help her with her injury. "I brought food to her house, and while she was a little loopy from the pain meds, I asked her out. She said yes. It's all about timing," Jim laughs.
Jim and Jen were married four years ago, and parent six children – all while running a successful gym together. Jen also still works in clinical trials for Merck, and received her CrossFit certification to coach classes and competes in strongman and Highland games competitions.
Nearly 7 years later, UAA is a thriving community of athletes that is continuing to grow each year. UAA hosts more events than any other facility in Indiana (at least 12 per year) and is involved in numerous other charity events. UAA boasts a membership of over 120 CrossFit athletes, 30-40 sports performance youth athletes, 12-15 strength athletes, and depending on the season, up to six sports teams from the local area schools. They also donate thousands of dollars each year to local charities and breast cancer research.
Jim still has goals of his own to accomplish for the future. He'd like to place on the podium at Strongman Corporation Master's Nationals, and pick up the "Manhood Stones" in Europe.
"If I had to do this all over again, I absolutely would."
---
Video Testimonial