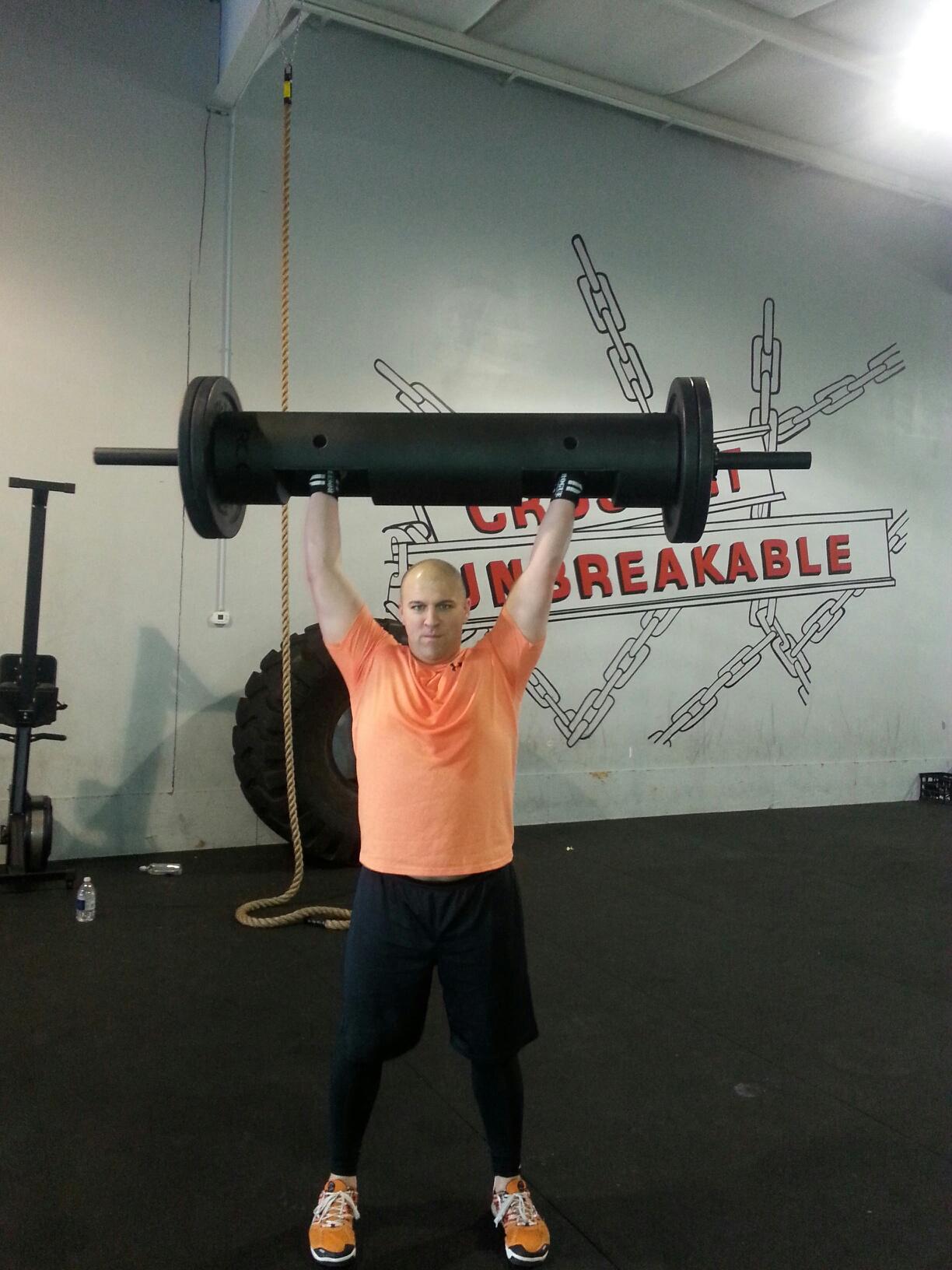 Eric began training at Unbreakable in 2008, the same year the gym was established. He became interested when he first saw the CrossFit games. Being a former college baseball player and well rounded athlete, he always sought out challenges and saw this as no exception. You can find Eric training at UAA every day of the week. It is rare if he does not make it to the gym. He works hard, is deliberate in his training, and is an amazing asset to all who get to train with him. He can often be found offering tips, advice, spots, sharing a laugh or leading a group in mobility/stretching after class. It also must be mentioned that he has the best playlists. Hands down. If you haven't trained with Eric as the D.J. you're missing out. Eric is passionate about coaching. It is evident when speaking with him about the athletes in his life. He coaches a travel baseball team, as well as Catching Camps that bring kids from all over the state to learn from him.  Eric is personally always looking for ways to continuously improve. When speaking with him, he spoke of his fear of failure and how it motivates him. Deep personal loss over the course of his life is also part of the catalyst that keeps driving him forward to become the best version of himself. The imprint he has on his own children as well as the young athletes he works with makes a statement about who Eric is as a person. There is no doubt that helping others brings him joy. Jocko Willink says, "Discipline equals Freedom". Eric has found that living and training this way, achieves the outcome he desires. With structure and direction one will find themselves more productive, and able to focus their found time in other areas. One of the biggest lies people tell themselves daily is that they do not have time. You make time for what you want. If it is a priority, you find a way.
Most recently you may have seen on social media the "75 Hard" Challenge Eric has been taking part in. This challenge was suggested to him by a friend. Although they have not physically worked out together much during this challenge, they keep in contact several times a day to check in and hold each other accountable. As of today, Eric has successfully completed 73 days. This challenge entails:
Two 45 minute workouts a day. One of which must be outside. Rain or shine. Warm or Cold. Outside of training at UAA Eric uses running, fast paced walking, and biking to fill in for the second workout.
Following a diet: Eric has been following a keto/carb cycling diet that is working really well for him.
Take a progress photo every day.
Drink 1 gallon of water: Eric sets himself up for success by getting his gallon jug full the night before so he is ready to tackle the morning with his best foot forward.
No alcohol or cheat meals.
Read 10 pages. Eric has been reading "Atomic Habits". One of his takeaways he shared was the idea of structure and habit stacking. Setting yourself up for success by associating one action with another. Creating successful, sustainable habits.
Eric admitted that this challenge could not have come at a better time for him. He struggles like many during winter in Indiana, and this forced him to get outside, keep moving and be even more intentional with his time and habits.
If you don't know him, after reading this, it is evident that Eric exemplifies many of our core values at Unbreakable. Discipline. Teamwork. Enjoyment. Integrity. Kaizen. Always improving. Always working. Eric, you are a wonderful teammate. You are an inspiration to many.
---
Video Testimonial